Alexander Shumarski
Guest
Are you still obsessed with things like "time spent on site", "bounce rate", sessions and visits? While there is nothing wrong with keeping an eye on those web metrics, digging deeper in your customer's journey and how your visitors interact with your brand might reveal hidden gems and open the door to more opportunities than you have anticipated.
The trouble for many marketers is that understanding their audience can quickly turn from an aspirational goal to a chore.
Climbing Mount Everest surely requires substantial training, dedication, and investment. Is it tough? Sure it is. Is it doable? Many have done it.
Sitefinity Insight
users are equipped with everything they need to get immediate results now, as well as some pretty powerful capabilities designed to fuel long-term success. If increasing conversions and proving the ROI of your marketing program's lead generation initiatives still poses a challenge for you, the marketer, you might want to open the toolbox and roll up your sleeves. We incorporated Sitefinity Insight into Sitefinity DX, our core digital experience platform, to help marketers get to the top of the world without breaking a sweat.
In this blog post we will try to cover some of the essential capabilities that come with every Sitefinity license so you can confidently enter the wonderful world of audience analysis.
In another post, we will discuss more advanced concepts and
premium Sitefinity Insight features
such as:
AI-driven attribution model
Segment discovery
Content consumed by Persona
Proactive AI-driven email alerts
Google Data Studio and Power BI Connectors and more
Let's begin with a question…
Are You Capturing Customer Data and Interactions across Multiple Channels and Touchpoints?​
Understanding your audience, building a complete customer profile and optimizing the customer journey go far beyond simple web analytics. It starts with your ability to collect and aggregate information from multiple sources so you can track different touch points. Think about the number of devices you use to interact with your favorite brands. For many end users, the customer journey and interactions have become non-linear.
Just like many others, I often find myself bouncing between channels online and offline, switching devices at various times of the day. So, by focusing on a limited set of isolated web metrics or touch points, many organizations might be missing out on multiple opportunities to grow their business.
Capturing data from multiple touchpoints and data sources—web, mobile, custom, and offline interactions as well as form data submission—is the first step in understanding your audience.
See Sitefinity Insight's
complete list of features
here.
What is Customer Data Management and Why Is It Important?​
A Customer Data Platform provides a unified view of every interaction across channels, from the initial touchpoint and every step along the user journey to the desired outcome or goal, such as a website inquiry, product purchase or offline interaction.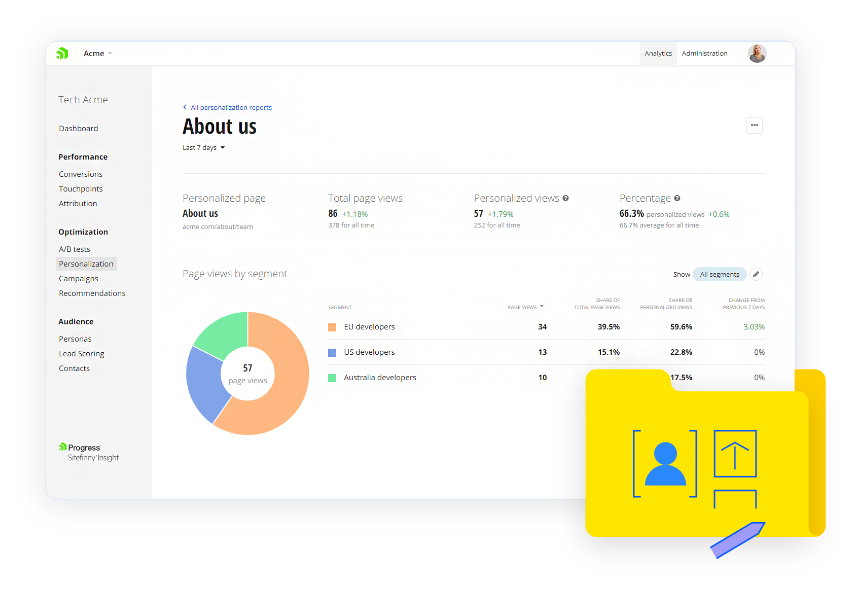 Sitefinity DX is a powerful
digital experience platform
that boasts essential CDP capabilities that are instantly accessible to marketers. Organizations can create a 360-degree customer view of their contacts, define and store custom contact properties collected through a form submission or external system (i.e. industry, salary, product affinity or product type).
Creating well-rounded customer profiles in Sitefinity Insight is easy, as the platform allows you to import data manually or programmatically from third-party systems. Built-in search capabilities enable you to quickly find a needle in a haystack and put a specific contact profile in the spotlight. Use persona, lead stage or other parameters to discover valuable information about your contacts.
Thanks to some powerful data-crunching algorithms and its ease-of-use, Sitefinity Insight makes getting insights about your contacts something to look forward to even on those dreary Monday mornings. So if understanding your audience has made it to the top of your priorities list, the Customer Data Platform (CDP) capabilities within Sitefinity Insight can give you the visibility you may be missing.
Customer Journey Mapping​
Whether you are starting from scratch or building on top of your existing web presence, designing a frictionless user journey should be a) your priority and b) it should be driven by data and by data only. Relying on your gut feeling or hunch could easily result in a miss, rather than a hit. There are three key capabilities within Sitefinity Insight that can boost your confidence, support informed decisions and help avoid pitfalls:
Journey Visualization​
Sitefinity Insight provides a customer journey map that illustrates the user flow through your site, starting with the initial touchpoint and continuing through the process of engagement towards a predefined conversion point or desired outcome.
Measuring Conversions Per Visitor or Customer​
Enables you to map and track crucial digital and offline goals or conversion points with business impact to the customer journey. You should track conversions and optimize the journey even if your site is not a B2B portal or a B2C online store. Financial services and healthcare providers, manufacturing, education and government websites, as well as any other industry, should try to track conversions. In fact, any user journey that is designed to drive visitors to a desired outcome should be scrutinized for friction points and help push those form submits numbers up.
Tracking Touchpoints Per Visitor or Customer​
Finally, you can easily follow impactful user interactions with the brand throughout the journey to help you finetune your content marketing plan or justify the redesign of your current website.
And if video plays a key role in your content, video consumption analysis enables you to measure video content and its impact on the visitor's journey and sales funnel. Now, where's the CV of that creative motion designer that's been collecting dust for some time?
Audience Analysis and Modeling​
Understanding and segmenting your audience into personas is a key stepping stone into building your content strategy and user journey. It can have a major impact on your funnel.
Firstly
, you will want to track both anonymous visitors and known contacts and assign numerical "scores" to key activities and aggregate these outcomes as visitors interact with various engagement points along the user journey.
Secondly
, you can segment known visitors by leveraging user-supplied demographic details (such as age, gender, education, income or job title) or past interactions and behavior criteria (like form submissions, CRM information, support tickets, content they consume, and the frequency and cadence of their interactions with your organization) to tailor the messaging or product offerings.
Thirdly
, define lead scoring and persona models and track the visitor journey as they express interest in your products and then move through your funnel to become a paying customer.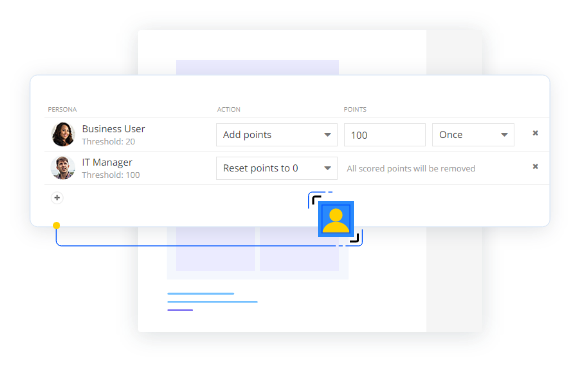 Performing audience analysis and taking time to create personas and lead scoring can increase your chances of driving better ROI and winning more deals.
Personalization, Targeting and A/B testing​
Reaching the right customers at the right time with the right message may sound like a challenging endeavor, but thankfully, Sitefinity DX and Sitefinity Insight make it child's play.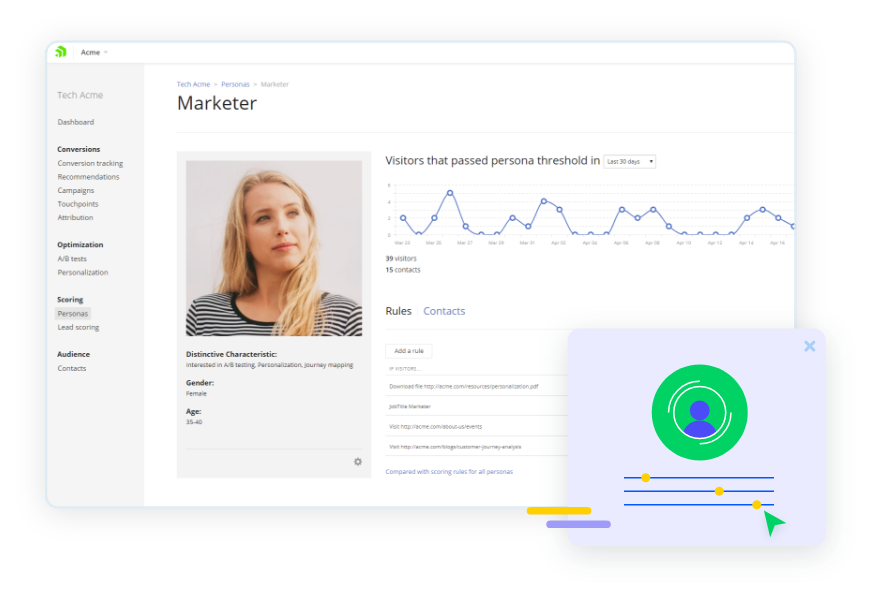 Here is what you can leverage out of the box to help keep engagement:
Real-Time Personalization Based on Persona Segments​
Once you have created your personas, your next step is to personalize the customer journey, tailor the messaging and offer, cross-sell and upsell products and services to your audience based on a predefined customer segment.
Real-Time Personalization Based on Lead Scoring​
In addition to personalization based on persona segments, you can customize the customer journey based on a visitor's engagement and readiness to convert.
Segment Targeting by Touchpoint​
Wondering how to optimize the conversion rates of your Facebook, LinkedIn, Twitter, email and PPC campaigns?
Segment targeting by touchpoints enables you to personalize the journey and guide visitors to important resources that are known to help with conversions, increasing average deal size (ADS) or keeping customers happy.
Segment Targeting by Conversion​
Lastly, conversion-based personalization in Sitefinity Insight enables you to optimize the customer journey and increase engagement by promoting relevant content, products or services based on macro or micro conversions, including form-fills, interactions with key CTA prompts or content.
A/B Testing​
A/B Testing is the process of creating variations of content and testing the performance of the variations compared to the original version.
Marketers can utilize Sitefinity Insight's
A/B testing capabilities
to test variations of web copy, design, Calls to Action, layout, etc. to improve the success of web content.
Putting It All Together: Analytics and Reporting​
Whether your peers and internal stakeholders prefer pie charts over raw data, they will all agree: Reporting is a must.
There are many built-in analytics and reporting capabilities within Sitefinity Insight that are guaranteed to feed the need for data, whether you're into A/B testing, personalization and content creation, or someone with a million-dollar view from that corner office.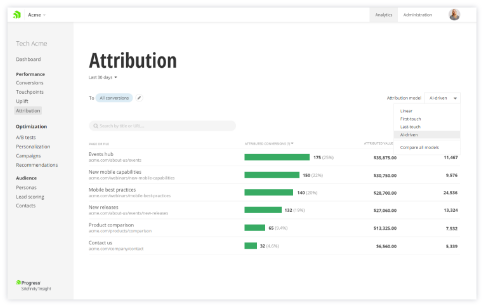 Configurable summary dashboards enable you to highlight the metrics that are most important to you, while specific reports such as real time A/B test reports, touchpoint uplift analysis and heatmaps—among others—provide vital information about the performance of your marketing initiatives, personalized content and touchpoint attribution analysis.
User Management and Compliance​
Sitefinity Insight is a SaaS platform, meaning you get all the benefits of the tight integration with Sitefinity DX minus the overhead associated with installing, configuring and managing the platform.
Website administrators can easily switch between multiple data centers, adjust user permissions, hide Personal Identifiable Information (PII) and can benefit from Single Sign-On (SSO) with Azure Active Directory and the optional Multi-factor Authentication.
Sitefinity Insight is SOC2, ISO/IEC 27018, GDPR compliant and is the perfect fit for organizations with elevated regulatory requirements. Multiple points of presence also help you check all the boxes in terms of data residency.
Wrap-Up​
We marketers often focus on creating multilingual content and multichannel experiences. Growing our digital footprint is one of our key goals. Understanding the audience, removing friction points and delivering personalized experiences can elevate the user journey and a support a healthy sales funnel.
Collecting data and getting insights enables us to focus our efforts where they can have the biggest impact on our work and the entire organization. Sitefinity Insight can help you ace those web metrics that you care about most. And that's just one of the many things it can help you achieve.
We have also created an
onboarding program
to help you get up to speed with Sitefinity Insight. If you prefer advancing at your own pace, we have a selection of webinars and blog posts to help you understand how to leverage Sitefinity Insight to maximize your online potential.
Got questions? Can't wait to get started? Talk to us, we will be more than happy to help you
get started with personalization and optimization
.
Contact Us
Continue reading...