The latest Sitefinity DX offering lets you take control of digital transformation with the right tools for practitioners in a platform you can trust long-term.
The latest installment concludes the DX 14 product line evolution with a mature, stable, long-term supported release. That is to say, you're getting all the exciting capabilities we've developed over the past two years, wrapped in a package that will be around for at least another four.
Mindful of that, maybe a little flashback is in order. I mean, we've come such a long way in such a short time. Let's give Sitefinity DX 14.4 a couple more minutes backstage. I'm sure it won't mind the wait. After all, that LTS badge means it's not going anywhere anytime soon.
The Sitefinity DX 14 Line: It's Been a Journey to Remember​
To fully appreciate the new release, it makes sense to view it in the context of the evolution of the Sitefinity DX series that started with 14.0 just shy of two years ago. The main themes that drove that evolution are still perfectly relevant, as obviously everything that was in the earlier releases is in Sitefinity DX 14.4 as well.
The Sitefinity DX 14 line has been both driven by and driving a transition from strictly web to multi-channel, building upon the traditionally powerful web content management with more low-touch orchestration tools and richer integrations.
Backed by a robust PaaS offering (
Sitefinity Cloud
) and Customer Data Platform (
Sitefinity Insight
), Sitefinity DX is an enterprise content and experience management platform at the heart of a composable DX suite that has earned Progress repeat
inclusions in the Gartner MQ
for DXP in two consecutive outings in 2022 and 2023.
It's the successive DX 14 releases that have secured this accolade by consistently delivering a robust set of new and improved capabilities for both business and technical practitioners. The standout themes have been the new decoupled frontend entirely built on .NET Core and enhanced by enablers for other popular frontend frameworks in React and Angular.
System and data integration has been a powerful driver too, both open via service hooks or through packaged, turnkey connectors for DAM, secure file transfer and digital decisioning. The platform has further been enhanced through focused investment in developing and integrating advanced search options and the continued expansion of the functionality of our own NativeChat solution.
The evolution of the business user UI and content management tools has been paired with modern, high-performing technologies for data-driven content delivery and headless APIs. We continue investing in the platform's Customer Data and Analytics layer, Sitefinity Insight, and advancing our Cloud PaaS, Sitefinity Cloud—all the while tightening security and compliance.
Driving Value in the Long Run​
Obviously, when putting together the last release in the 14 DX series, we wanted to bring these themes to a meaningful conclusion and give the LTS package the highest level of supportability and predictability in the long run.
We set out to wind down new development, clean up the major feature initiatives and put it all into a mature, polished package with our commitment to a period of maintenance of at least four years.
As a result, adopters can count on security patches and critical updates over a four-year window, which should cover even the most conservative installations trying to minimize security, maintenance, and upgrade costs.
Enterprise support with escalation options is available for two years from the date of the release. By the way, the 14.4 LTS release will be supported for its entire lifespan in Sitefinity Cloud, even though it's worth noting that we have plenty of
automation in the Cloud for clean and trouble-free upgrades
.
Sitefinity DX 14.4: What's New​
Beyond the obvious LTS designation, Sitefinity DX 14.4 packages a set of new capabilities and enhancements to the decoupled .NET Core frontend, capped with support for the latest version of the Microsoft framework in .NET 7.
A few updates for content editors and marketers are also in the bag, and many of those are based on customer requests.
There's new functionality released concurrently for Sitefinity Cloud, Sitefinity Insight and NativeChat, which is not necessarily tied to the 14.4 release, but certainly adding value to the digital ecosystem.
Of course, all the new functionality you'll get to experience is made possible by the less obvious but necessary technology updates under the hood.
That's the thing, whenever a new release is out, the obvious focus is on the novelty. There's usually a standout feature or two that will grab the headlines and drive the conversation. An LTS release is different in that it focuses less on the features and more on the value.
That by the way should be the right approach to evaluating content management and DXPs. With technology evolving so fast, feature and function are always at risk of becoming obsolete. The true value of a solution is in the level of scalability, the long-term ROI against the cost of maintenance, security and upgrades.
That's exactly how this release ties into our long-term vision of a platform that can support digital transformation by checking all the right boxes for agility, scalability and performance.
Multichannel Content Management Core
Fully Managed State-of-the-Art Cloud PaaS
Customer Data Platform
Connected Business Ecosystem
UI / UX Tools & Experience Design
Headless Content Delivery & Multi-Frontends
Enterprise Security & Compliance
Ease of Use & Time to Value
The full account is available on the
What's New
page and the high-impact novelties are listed below. The important thing to keep in mind though is that Sitefinity DX 14.4 LTS both completes a chapter in the platform's evolution and anticipates the next.
Long-Term Support​
Sitefinity DX 14.4 is a stable and functionally complete release with an extended support lifespan to provide stable, secure and predictable DX platform to our customers
Security and critical updates are guaranteed for four years, including enterprise support for two years with an escalation option.
Overall, it's a package that offers the best in the platform to date with an extended horizon to protect your investment in uninterrupted, future-proof digital experience management.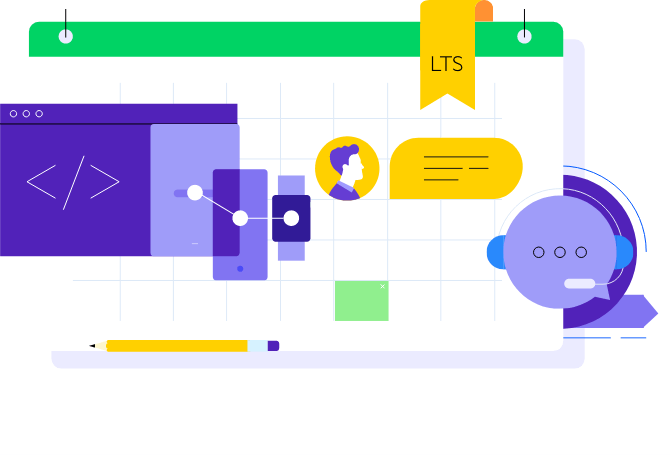 .NET 7​
Support for the latest cross-platform .NET Core is an important milestone in our development of the Sitefinity decoupled presentation. It comes on the back of multiple productivity enhancements for fast development and deployment, coupled with true WYSIWYG content editing and codeless page building for marketers.
.NET 7 can significantly speed up cross-platform frontend development to allow customers to quickly build, maintain and scale their digital experiences, both on-premises and in the cloud.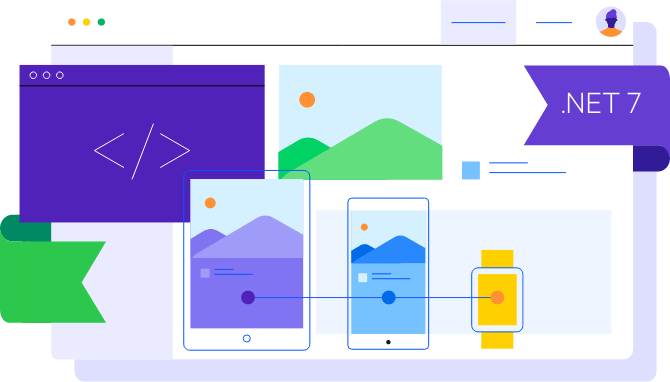 Audience Modeling​
The
new capabilities in Sitefinity Insight
include improved tools to better understand the all-round visitor journey and a more intuitive way to set up lead scoring models. Insights into the most common interactions that precede or follow touchpoint hits have been added to the detailed touchpoint report.
Conversions in rules for lead scoring and persona will help you make informed decisions about your enterprise digital strategy and enhance customer experiences through relevant, available data.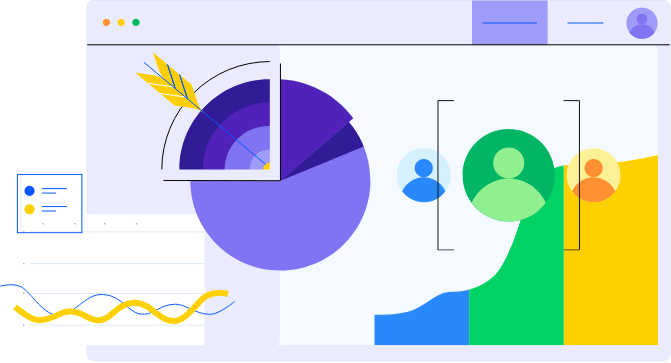 The Chatbot Experience​
The integrated chatbot solution by NativeChat has been a true differentiator in the Progress DX ecosystem. Their multichannel applicability and user-centricity make chatbots a valuable addition to DX toolsets. Here go the latest features we've added to the in-house AI chatbot.
Proactive Engagement:
Engage the visitor at the right time of their journey, based on decisioning by Sitefinity Insight to positively influence conversions and drive pipelines.
User Feedback:
Let the users validate chatbot suggestions to better understand chatbot performance and fine-tune bot training. Increase relevance and customer service quality.
Power BI Connector:
Track chatbot performance in a popular enterprise tool. Create rich visualizations, compare with metrics from other systems and share reports with relevant stakeholders, all tightly integrated into your enterprise reporting.
Machine Translation:
Train your bot in one language and enable real-time machine translations in 70+ languages. Enterprise scalability with a true multilingual solution available out-of-the-box.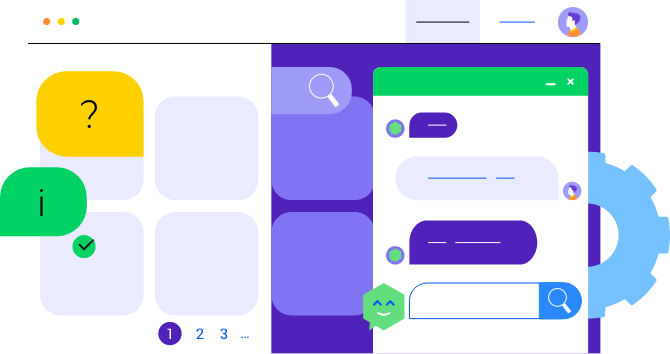 Wrap-Up​
So, there we are. With those final touches, the Sitefinity DX 14 line will be cruising for the next four years. Imagine the mileage you can get out of it—and the best thing is performance isn't on the flipside.
There's no flipside to an LTS release. It simply means you have a generous window to plan long-term and travel at the speed you're comfortable with.
In our business, it's not the distance—it's the journey that counts. Content management is commoditized to the point that it's less about the features, and more about the experience, for both practitioners and the end users. What you can do versus how you do it. Most platforms will be able to take you from point A to point B—the right one will get you everywhere and will take the scenic route.
And you know what else LTS means, right? Next time around, we'll be talking Sitefinity DX 15. Not much to say just yet (and it's hardly the time and place for spoilers). So, let's put it this way: sit back and enjoy the ride—we'll be right behind you when you're ready to shift gears.
Get Started with Sitefinity 14.4
Continue reading...