The wrong CMS can make getting content to market a grinding chore, while the right one makes delivering compelling multichannel experiences easy. In this post, veteran senior copywriter Mark Schafron hits the high points of how the right CMS lets him focus on the content, not the process or tools.
If you're a digital content creator like me, you've probably used several content management systems in your day. I'll take an educated guess here and assert that when you think of many of them, "ease-of-use" doesn't jump to mind.
We're creatives focused on crafting, perfecting and delivering first-rate digital experiences for our audiences every time they engage with us—not developers with the skills or need to master every nuance of a massive, complicated CMS.
That's why I'm a big fan of
Progress Sitefinity 11
. Admittedly, I work for the company that makes Sitefinity, but I've used everything from the monolithic to the home-built and Sitefinity is powerful, intuitive, yet simple enough for anybody to use. Here's how I typically use the product, and what makes my job easier and helps keep us nimble in a digital marketplace.
Me and My Sitefinity
The bulk of what I create for external consumption are webpages. I have a couple of options to create or edit content items:
The
Inline Editing
feature lets you edit and upload content to the site directly while browsing it. This gives the advantage of being able to see how things will look in the context of the website immediately.
The rich-text
Content Editor
gives you a simple and functional interface to write and format text. I use the editor to enter and format text, tables, and the like. You can also insert already created text, images, links, lists, and so on. This mode is my personal preference. Here's what the modules and widgets look like: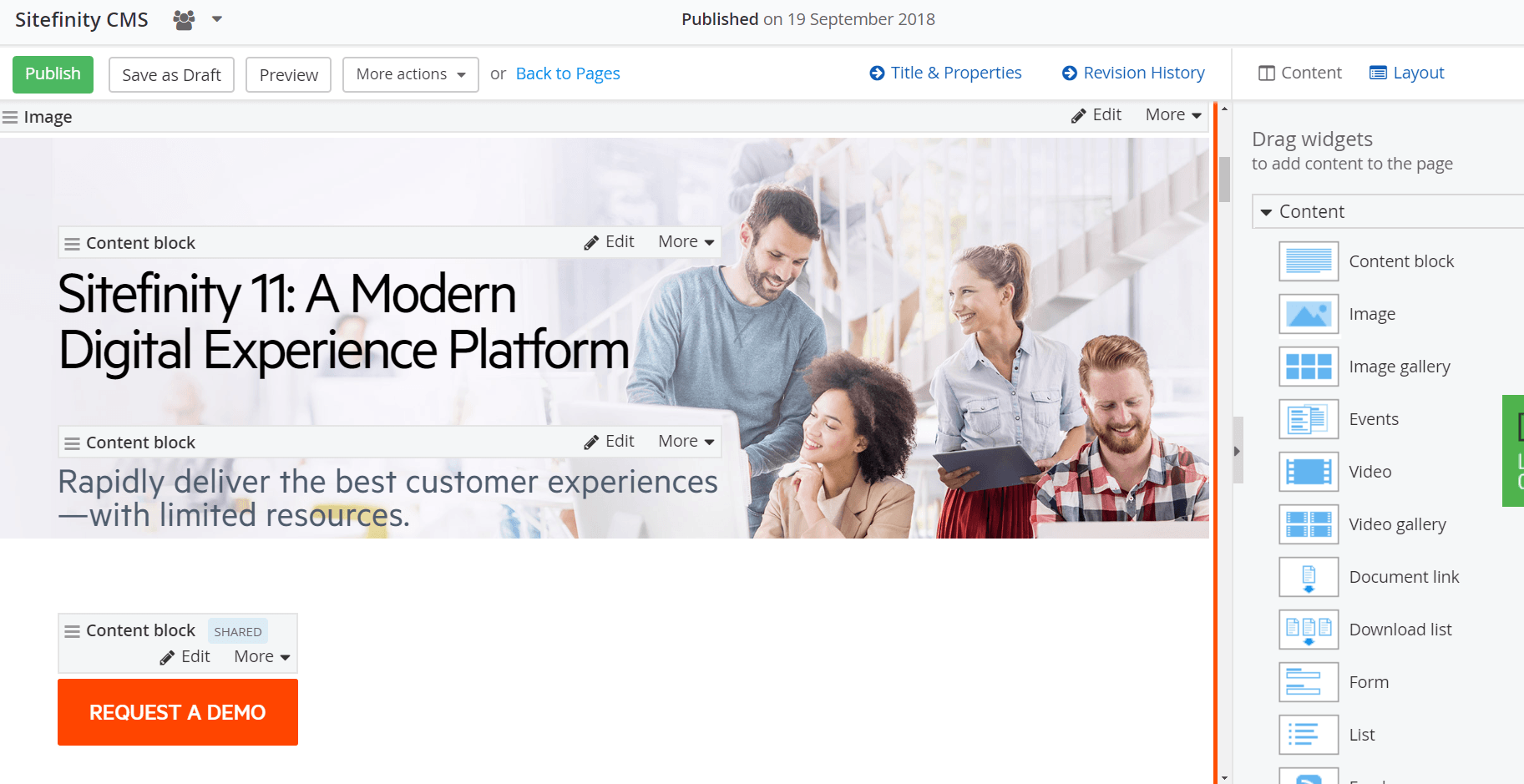 Clicking on the pencil launches the WYSIWYG editor where you can create or paste text, add styling, images, and leverage a full menu of formatting options. If your content is shared across pages or entire properties, you can dynamically change it everywhere or pick and choose what will change and where.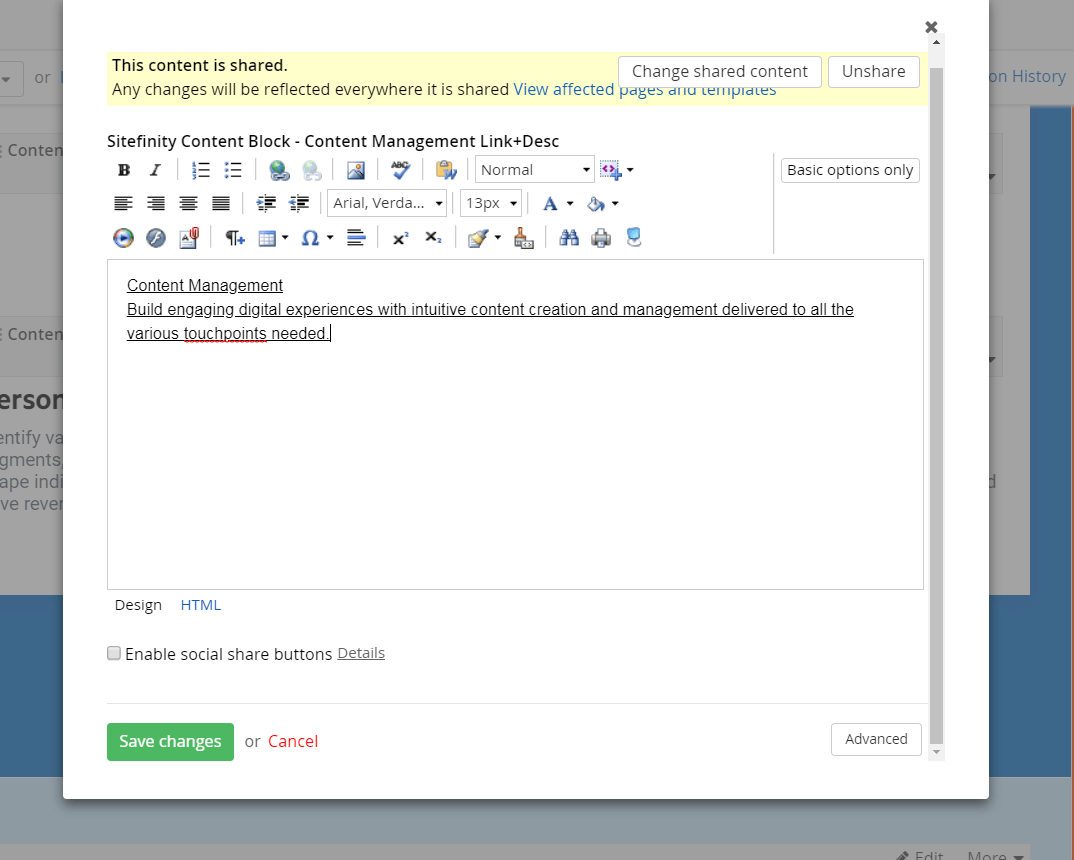 You can also flip it over to the HTML side if you prefer editing that way.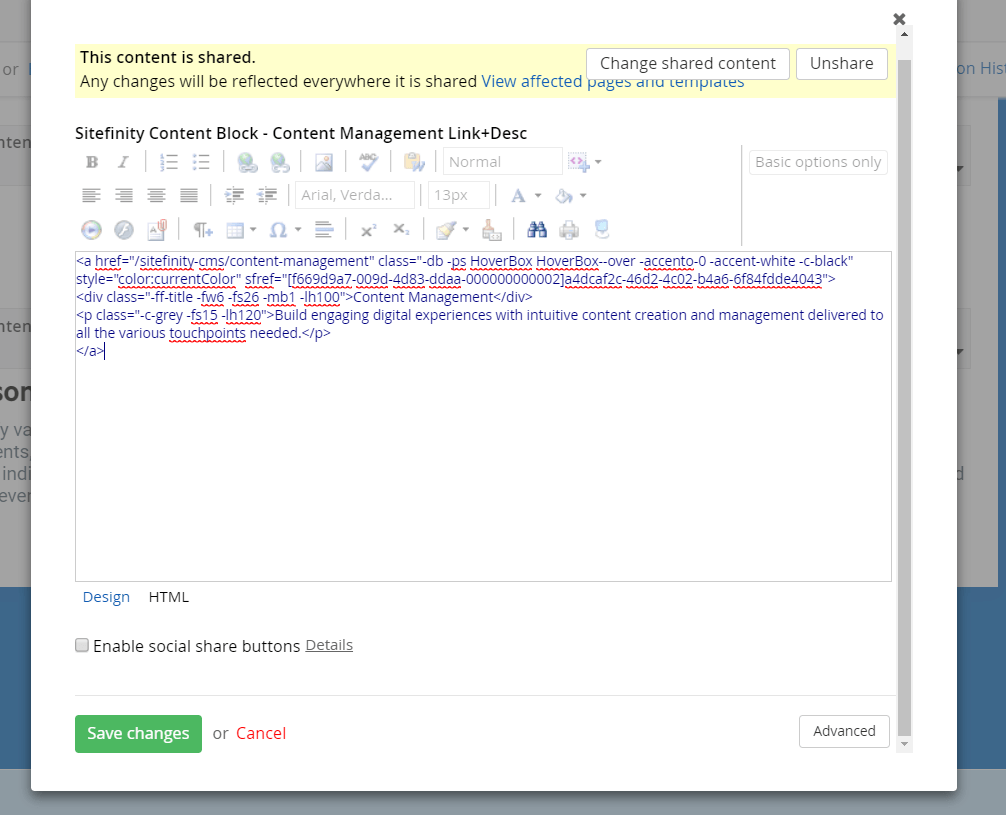 Next, you click the <PREVIEW> button, inspect your work, and then publish it. You're done. You can also schedule your material to go live at a specific date and time.
Built-in Features Liberate You and IT
Sitefinity comes with built-in content types such as content blocks, blogs, events, forms, forums, lists, news and media content so I'm not stuck trying to build a feature from scratch or burning up precious IT cycles asking for remedial help. All I need to do is click the content type and populate it. In addition, garden-variety changes like adding images to a header or rearranging content blocks within the design are drag-and-drop chores or accomplished with a few clicks. Finally, Sitefinity's powerful multichannel capabilities ensure that I can rest easy knowing that what looks great on the web won't go to pieces on a mobile device.
Here's some other Sitefinity features that make my life as a writer much easier:
SEO Tools
SEO can be a chore. Sitefinity's suite of integrated SEO tools help ensure sites get the discoverability and visibility they deserve. You can input title tags, meta descriptions, meta keywords and header tags in one step, plus the built-in spell check minimizes mistakes. You can improve your internal linking by establishing relevant relationships between resources and pages. Sitefinity allows you to block search engines from indexing any page you want to disappear from search engine results. You also have complete control over URLs so you can customize them to improve your search visibility.
Revision History
Sitefinity lets you create more than one version of your content. Every time you edit a content item, a version of that content item is saved by the system. That makes collaboration easier by letting you view and compare content versions, add notes to a version, or delete a specific version you no longer need.
Content Reuse
With Sitefinity, you don't need to reinvent everything for each new project or campaign. You can reuse content in another page or site or use a variation of the content instead of having to create the identical content all over from scratch. If circumstances call for it, you can reuse and repurpose content many times across multiple pages and sites.
The days of clunky, complicated content management systems and their endless end-user workarounds are over. Sitefinity is elegant in its simplicity and it's that simplicity and ease-of-use that makes it such a powerful tool and the right fit for most enterprises.
If you create and manage content for your enterprise, I highly recommend that you check out
Progress Sitefinity 11
and explore how it can empower you to serve up compelling, multichannel customer experiences easily. After that, why not
ask for a demo
?
Continue reading...