Keeping your website optimized and up to date can be a challenge, but it's critical to ensure high performance and a good user experience. Learn about four ways you can make this process smoother and simpler using Sitefinity Cloud.
1. Optimize Your Project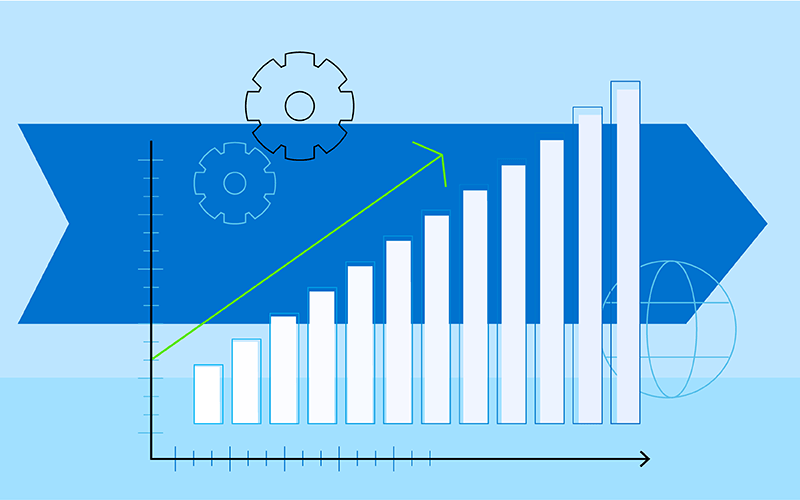 Sitefinity Cloud
is PaaS at its best, with all the underlying services superbly configured for the ultimate performance and reliability. The right infrastructure does give you a head start but what we do is more of a long-distance run. It's very important to understand and use the platform's capabilities to your advantage. At a time when everything is due yesterday, quality is the first likely casualty when it doesn't have to be. How you develop and optimize your Sitefinity project is of utmost importance.
Time is money, the old saying goes. Let's spend some time to make sure your company thrives by doing things right. "It works on my PC" just doesn't cut it.
A picture-perfect infrastructure doesn't guarantee top-notch customer experiences. The implementation itself matters. And then there is the so called the replication pattern. Every decision you make setting up your project is multiplied down the line, the good and the bad alike. The next feature you develop is always based on something you did prior. To help you stay on top of your project development and provide a premium customer experience, the optimization service in Sitefinity Cloud is probably the most important tool to have.
The optimization service is available for every Sitefinity Cloud customer. It includes an assessment of your project, optimization, and testing. The optimization service is focused in three directions:
Performance optimizations lead to better customer experience
Security optimizations reduce the risk for your website to be hacked
Development practices optimization assures rapid development going forward
The following table represents performance optimization stats for two of our Sitefinity Cloud customers. To collect them, we've executed a performance test that requested the homepage of our customer's websites from different locations 20 times in a row and took the average response time. To be more accurate, the test was executed with output cache disabled.
Hosted in Europe
| | | | |
| --- | --- | --- | --- |
| Test Location | Before | After | Improvement |
| EU North | 1.31 s | 0.73 s | Reduced response time by 44.27% |
| US East | 2.68 s | 1.78 s | Reduce response time by 33.58% |
Hosted in US
| | | | |
| --- | --- | --- | --- |
| Test Location | Before | After | Improvement |
| US East | 4.85s | 2.02s | Reduced response time by 58% (2.4x) |
| EU North | 6.67s | 3.39s | Reduced response time by 49% (1.96x) |
2. Keep up With the Latest Sitefinity Version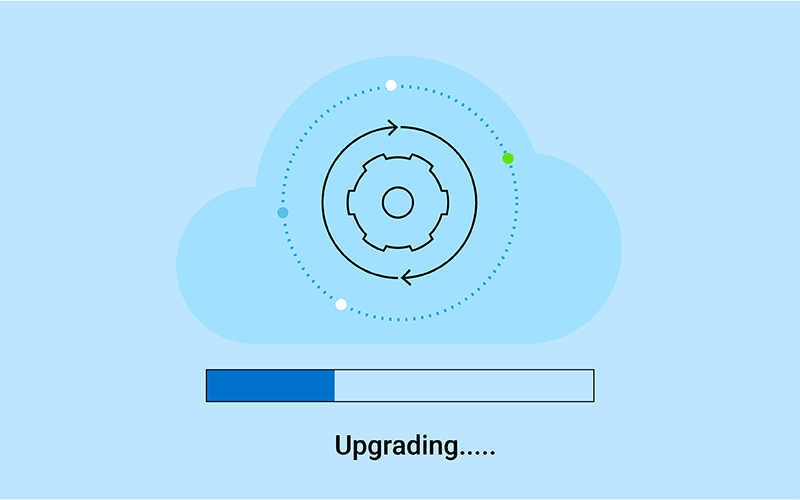 Sitefinity has three major releases per year. In addition to that, a new Sitefinity patch is released every other week. That makes around 26 patches per year. These frequent release cycles enable us to react quickly and address issues or add enhancements in a timely fashion. That's only half of the equation, though. We do our part by releasing it, then it's up to you to upgrade and take advantage of all the fixes, security updates and performance optimizations. That's right, it's up to you!
The good news is, in the latest Sitefinity releases, we made the upgrade process incredibly smooth, so it gets more comfortable for you to upgrade. In Sitefinity Cloud, we even took one step further—we do the upgrade for you, for free. The new free upgrade service does the following:
Observe the Sitefinity NuGet repository for the new version
When there is a new version, upgrade your project
The upgraded project becomes available for you in a separate Git branch
This way, you decide whether to merge it or not.
Sitefinity major releases may have breaking changes. These are not going to be handled by the free service. To allow the Sitefinity Cloud customers to benefit from all the new functional capabilities and bugfixes released in the official releases, we've introduced a Premium Upgrade Service. This service includes additional professional services development, and it assures that your Sitefinity project will be upgraded to each major release and then tested. Again, you will decide whether to merge it or not.
This is how you and your team could be focused on the development of your website on the platform and leverage the Premium Upgrade service to takes care of the upgrades.
3. Leverage the CDN for the Entire Website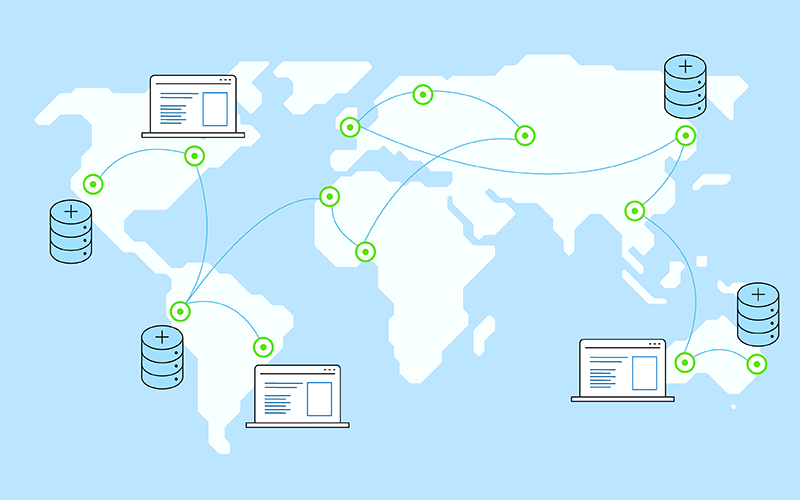 Technology transcends boundaries. It's easy to tap diverse markets in different locations thanks to technology. The Internet connects people around the globe. While the Internet is the environment for exchanging and sharing information, the website you built and deployed in that environment is the vessel. Establishing a connection across the globe is a problem of the worldwide web and its infrastructure. Providing a great customer experience is up to you and your development skills.
When we talk about customer experience, the key is performance and sped. That is, how fast your website is loading. 37% of your website visitors bounce when your site takes five seconds to load. Other research also shows that 70% of customers say site speed impacts their purchasing decisions. Performance matters, it's a no-brainer!
Then again, some may say that being able to find a website is more important than how fast it loads. Interestingly enough, three out of the top four factors for Google rankings are tied to UX (user experience) metrics: time on site, pages per session, and bounce rate. Didn't we say that the bounce rate directly depends on the page load time?
So, the relationship is obvious. To acquire new visitors and convert them into customers, your website should be fast. If you manage to do that and decrease the bounce rate, Google will help you by improving the ranking of your website such that more people will find it. That's it, all about the performance!
The traditional approach to reducing the load time of your website is by leveraging a Content Delivery Network (CDN). A CDN is a network of nodes that are globally distributed. Based on the advanced routing mechanism, the information stored under a CDN is served to the users from the nearest node (location). That's a compelling approach. Unfortunately, this approach works for static files (images, videos, documents, etc.). How about the content? Traditionally, a broad range of CMSs provide an option to store static files in CDN, but the content comes from a single place. In recent months, we in the Sitefinity Cloud team were dedicated to find a complete solution and start serving the whole website under CDN, assuring your website visitors have a great experience. And we did it! In Sitefinity Cloud, out-of-the-box, your website will be served under CDN. No latency issues anymore; everything is served from the customer's nearest node.
How about content editing? How fast the new or updated content becomes available across the globe? That was the challenge, how to optimize the overall content editing process such that the new content gets updated instantaneously around the world, and we did it. The content of your website gets cached on several levels (distributed cache, CDN). We established a process where the right portion of the cache gets invalidated as soon as the content gets updated or added.
To learn more about leveraging the CDN for the whole website, check out our blogpost
"Supercharge Site Performance with CDN: In the Fast Lane with Sitefinity Cloud."
4. Separate the Development and the Content Editing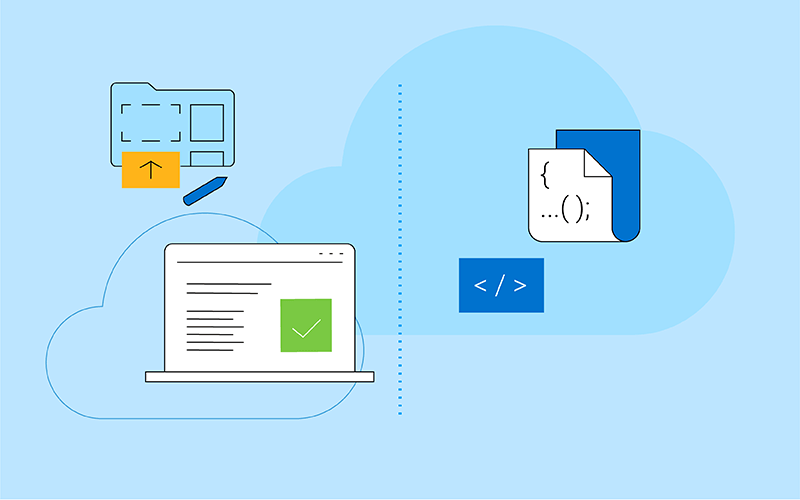 We live in a world of rapid changes. What's new today is out-of-date tomorrow. There are no exceptions. Your development team should be capable of rapidly upgrading your Sitefinity project. Equally important, content should be frequently updated to keep your audience engaged and provide relevant, fresh information. Development and Content Editing are two critical processes for the success of your company. Occasionally we see intersections between these processes, and the end result is not optimal. In other words, the content editors create or update content on the environment where active development is going on. The side effects are obvious:
Content editing interruption due to an outage of the environment
Data lost due to buggy custom code
Issues with the migration of the new content to the production environment due to version mismatch
To address these problems, Sitefinity Cloud offers completely independent development and content editing processes. Processes that are built to provide an environment where Content Editors and Developers work together without interfering with each other. That solution is called the Content Pipeline.
It is entirely setup by Progress by following all the best practices. The customer can jumpstart the content editing process by leveraging Content Pipeline. In general, with the Content Pipeline, a new Content Staging environment will be added to the set of your Sitefinity Cloud environments. The same bits that are deployed on the production environment will be automatically deployed on the Content staging as well. Such that your content editors are working on the production like environment and there are not going to be version mismatches. The Content Pipeline establishes a synchronization mechanism between the Content Staging and Production environment, and once the content is done, it can get easily synced to production.
That separation of development and content editing process enables rapid iterative upgrades and content editing at the same time, assuring the health and high quality of both the code and the content. The
"Content Pipeline in Sitefinity Cloud: CI/CD for Content"
blog post outlines the details around the content pipeline and its benefits.
Introducing a new set of services: automated upgrades and optimization service, Sitefinity Cloud comes even closer to our strategic goal of offering a complete solution to our customers. We've got you covered not only in terms of the most efficient setup, automation and maintenance—we make sure Sitefinity Cloud is in line with the best practices and leveraging the latest tools and evolving technologies.
[URL='https://www.progress.com/sitefinity-cms/cloud']
[/URL]
Talk to a Sitefinity expert today about how to get the most out of Sitefinity Cloud. By expanding the set of services and providing the top-notch infrastructure, we are aiming to provide the right tools for you that enables you to focus on just one thing—how to engage with your users and convert them into customers.
Continue reading...