Progress Plus co-leaders, Mariyan Vasev and Todor Totev and Inclusion and Diversity Program Manager Courtney Gagné share their thoughts on how Progressers empowered the LGTBQIA+ community, including our first Pride Walk around our Burlington HQ, resulting in over $4,000 raised for The Trevor Project, not only at the company but across the world.
On June 29, more than two dozen Progressers, from all different departments and their guests were decked out in colorful, rainbow-themed shirts and press-on tattoos. A few carried flags and signs representing the LGBTQIA+ community. It was our inaugural Pride Walk, hosted by our LGTBQIA+ Employee Resource Group (ERG), Plus.
The overall goal of the event, organized by Inclusion & Diversity Program Manager Courtney Gagné, was to raise $1,000 for The Trevor Project, a non-profit focusing on suicide prevention with LGBTQIA+ teens.
"With all that is going on in the world, this Pride Walk was the reminder we needed of what we are fighting for—each other," said Gagné. "We weren't sure an in-person event was going to happen, but once we decided on it, folks from across the company stepped up to help in whatever way they could to make it happen, coming together to support each other, and that is what this community is all about."
By the end of the event, $4,500 was raised by those walking at the event including CEO & President Yogesh Gupta and EVP Corporate Development, Jeremy Segal. The starting fundraising target was more than doubled and Plus made an additional $1,000 donation to match the initial fundraising goal.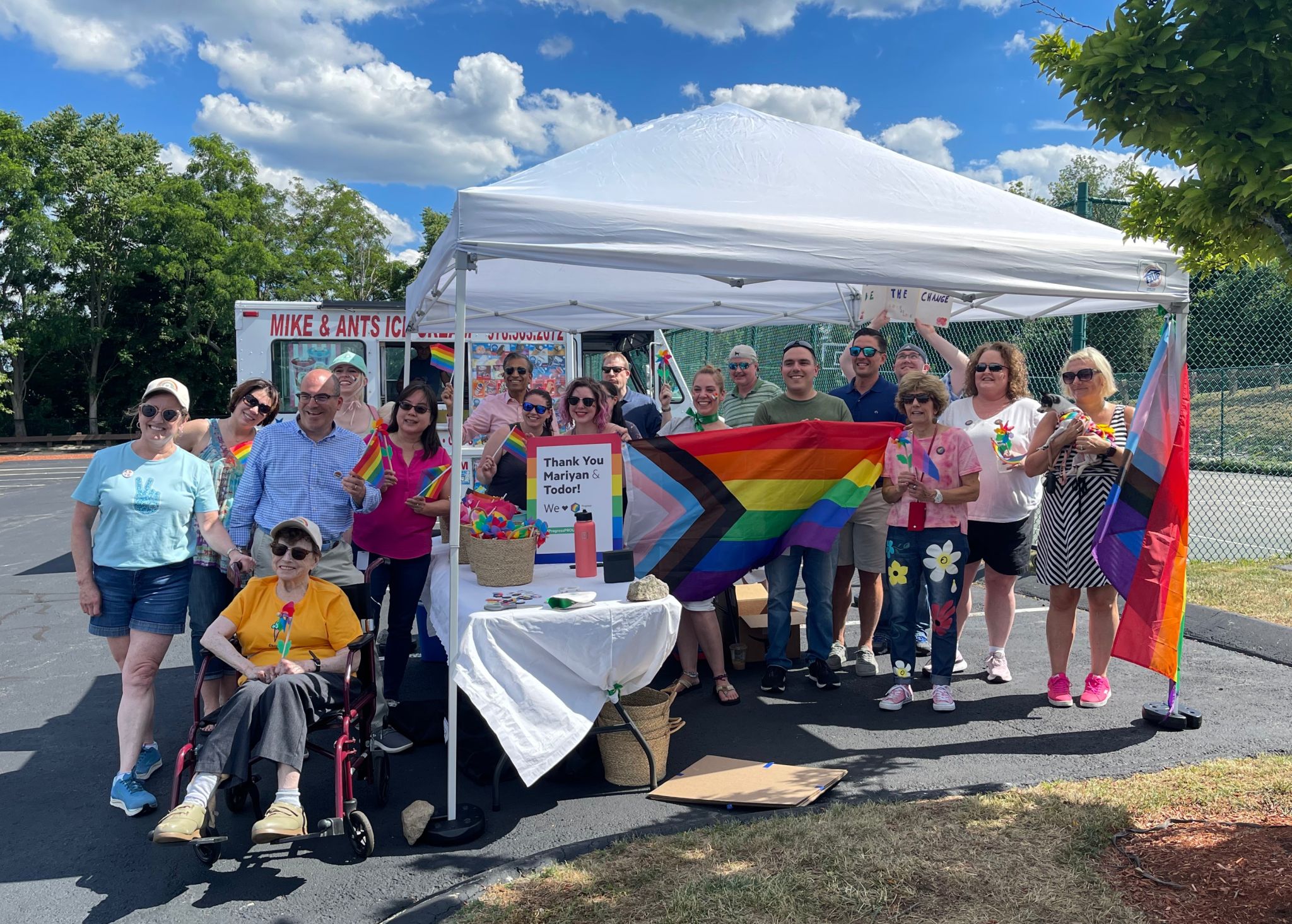 The goal of the Pride Walk was to support the LGBTQIA+ community at Progress and the world, as well as raise money for The Trevor Project. Progress PLUS hosted multiple events throughout the month of June as well.​
Earlier this year, Plus co-leaders, Mariyan Vasev, Talent Development Manager, and Todor Totev, Information Developer, Principal, along with our Chief Inclusion and Diversity Officer, Shirley Knowles,
were invited
to the British Ambassador's Residence in Sofia to commemorate the International Day Against Homophobia, Biphobia and Transphobia (#IDAHOBIT). Despite it not being Pride Month yet, Plus' representation at this event was a great start to what was to come in the next few weeks.
On June 8, Pride Month started off with a virtual keynote titled Pride & Inclusion. Vasev and Totev joined the Teams would-be stage with Rabbi Max Chaiken, an openly gay, married rabbi. Chaiken spoke about his experience as a person of faith, their own marriage and how important inclusion is to them in both of those areas.
A light-hearted, and at times challenging, trivia contest also took place on June 22. The game was open to all Progressers. Questions ranged from facts surrounding prominent LGBTQ figures in history (Q: "What does the P in Marsha P Johnson stand for?" A: "Pay it no mind!") to pop culture-related ones ("Which famous Bulgarian movie star is also an avid supporter of LGBTQ rights?" A:
Borat Subsequent Moviefilm
's Maria Bakalova). However, there were a ton of questions leaving most participants scratching their heads. Here are a few answers that we found the most interesting.
In fact... did you know?
Lynne Conway, a transgender woman, worked at IBM in the 1960s and is credited as the inventor of generalized dynamic instruction handling, used by most modern computer processors to improve performance. Conway also co-developed the approach to how all modern chips are physically organized. So, all of our computers that enabled us to efficiently work remotely? We can thank Lynne Conway.
A "Boston marriage" is what people in the 1880s called a cohabitation between two women who were romantically involved or sometimes just roommates. Regardless of if they lived in Beantown or not.
Alexander the Great is one of history's most dominant kings and remained undefeated in many battles. Many historians have also discovered Alexander was gay and in love with one of his most trusted generals, Hephaestion.
And last, but certainly not least, the final Pride event was a panel discussion on June 30. Hosted by Ashley T. Brundage, Founder and President of
Empowering Differences
, a personal training and coaching organization. The event, co-hosted with Progress for Her, was an open discussion led by Brundage. She shared her experiences as a transgender woman in the corporate sector and how we can promote awareness around gender identity and expression.
Plus showed their own Pride throughout the month and received support throughout the Progress community. And the success of the many events proved that.​
While Pride Month is closing, Progress is always working toward a more diverse and inclusive world. To learn more about Plus and the other ERGs at Progress,
click here
.
If you would like to donate to the Trevor Project,
do not hesitate
. They are always accepting donations.
Donate to the Trevor Project
Continue reading...